Homoeopathy Cures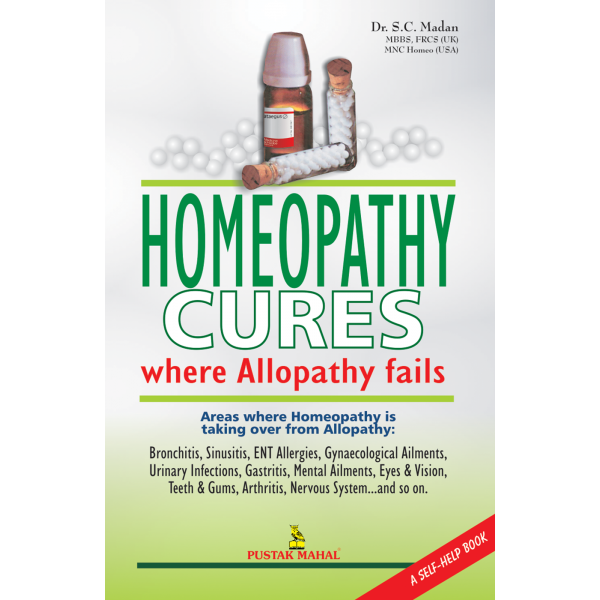 True, there's no substitute for Allopathy. With its life-saving drugs, antibiotics and surgery, it is the only answer to range of critical illnesses and dreaded diseases. But despite extensive advancement and research in the field, Allopathy is unable to provide CURE for a number of ailments. In This respect, Homeopathy has shown effective and proven results.
"Very often, the side effects caused due to the use of an allopathic drug are worse than the disease for which the drug had been administered," says the author, who is eminently qualified to compare the two sciences (Allopathy and Homeopathy). In this masterly, first of its kind book, the author lists specific ailments to prove his case. For instance, where, in choronic sinusitis, decongestants like coldarin, Action 500, Actifed, Centrizine, etc., simply mask the symptoms without treating the cause, Kali Bio, Belladona, Kali sulph and Calcarea Sulph provide effective cure. In cases of Skin Allergy, where dermatologists suggest anti-allergic treatment, Natrum Mur 1M can provide a permanent cure. Homeopathy can also be an effective treatment for Menorrhagia at menopause, which is otherwise treated with hormone replacement treatment, Gynae CVP, Dicyene and hysterectomy, Surgery can be avoided by Homeopathy in conditions like Prolapse uterus, Piles, Warts, Corns, etc.
In addition, the book lists specific homeopathic medicines and treatment given in different cases-besides a section on frequently asked questions.
ABOUT THE AUTHOR
Dr. S.C. Madan, MBBS and FRCS in ENT, has been the Head of ENT department in Norway. During his tenure as consultant, spanning almost two decades in the west, he carried out major surgeries in his speciality.
In the eighties, he got disenchanted with the results of allopathy in some diseases and went to the U.S. and started practicing Homeopathy. After having extensive knowledge in Allopathy and Homeopathy, he applied both systems of medicines depending upon the disease, condition and economic status of the patients.
His sole aim while treating a patient is that the treatment should CURE, be SAFE and ECONOMICAL, and without SIDE-EFFECTS. This book is an accumulation of the vast knowledge which he has gathered with more than twenty years of experience in both the branches.