15 दिन में हारमोनियम सीखिए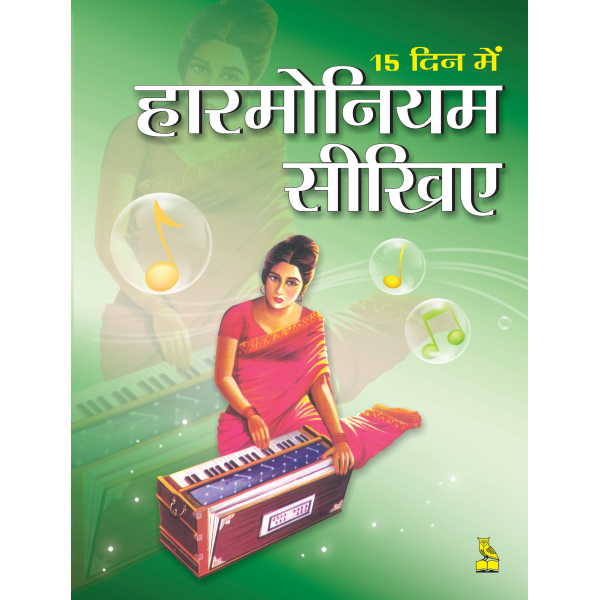 15 din mein harmoniyam Sikhiye
The book by Ramavtar Veer is a comprehensive guide to learning this harmonium. The book explores terminologies of classical music and covers topics explaining basics of classical Hindustani music. It covers concepts like thaats, ragas etc with clarity and also has a glossary with musical notations of some popular Sufi and Hindi songs.
Invented in Paris in 1842 by Alexandre Debain, the harmonium is a keyboard instrument of music. The instrument is available two types- the foot pumped harmonium operatedby pumping air into the reeds through the foot pump and the hand pumped harmonium that requires one of the operator's hands to pump air by the bellow.
This instrument is an important part of the traditional and cultural music genres in many parts of Asia, most noticeably in India and Pakistan. A key part of the orchestra in genres of Hindustani Classical music, Sufi music, cultural classics, ghazals and bhajans, the harmonium requires a combination of hard work and skill to be effectively operated.
About the Author
Pustak Mahal: Pustak Mahal is one of the most renowned publishing houses of India. They develop and bring out quality textbooks and educational books that conform to various educational boards of the country. Their books have been supporting those who aspire to excel in competitive examinations. The authors who compile these books are highly well-regarded connoisseurs and proficient in their respective fields. Some of the books published under their banner are The Book of Etiquette and Manners, Over 50 Exciting Electronic Experiments, 36 Unsolved Mysteries of the World, 100 Brain Teasing & Stimulating Puzzles Riddles and Mathematical Recreations, and Rapidex Enrich Your Word Power and Improve Your English.