Munshi Premchand Complete 3 Book Set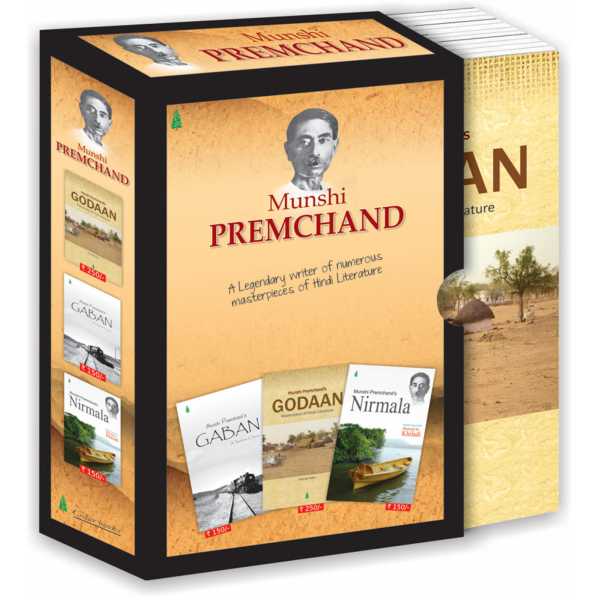 Gaban
Gaban, one of the most celebrated novels of Munshi Premchand, was first published in 1931. It tells the story of Ramanath, a charming but morally weak young man, who in order to fulfil his beautiful wife's – Jalpa – excessive craving for jewellery involves himself in complex economic and personal relationships, which eventually leads to his apparent ignominy, and his escape from home. He doesn't even bother to realise that by doing so he brings disgrace to his family honour and leaves his dear wife alone. However, Jalpa's brave attitude brings a sense of redemption in Ramanath and they unite again.
One of the classics of Indian literature, Gaban gives an engrossing picture of Indian society. It also captures the social and economic conditions and conflicts of a North Indian society in pre-independence India. It is a must read for readers interested in regional Indian literature.
Godaan
Godaan is one of the most celebrated novels of Munshi Premchand. Set in pre-independence India, the novel captures social and economic conflict in a north Indian village.
The story revolves around Horiram, a poor village farmer, and the struggle of his family to survive and maintain their self-respect. Horiram does everything in his capacity to fulfil his sole desire – to own a cow, which is considered a farmer's source of wealth and happiness.
One of the classics of Indian literature, the book offers an insight into the colonial history of India, captures the ethnic flavour of the Indian villages and also catches the human emotions in all their rawness.
Nirmala
Nirmala, first published in 1928 is a moving tale of a fifteen-year-old whose life is bartered by the very hands of destiny when she is made to marry an elderly widower – a matchless match. Premchand presents a nuanced mockery of the institution of marriage and that of the patriarchal society with a high degree of reformist outline.
Nirmala entirely deals with the life and activities of Nirmala. Nirmala as the protagonist and as the victim conveys some sensitive issues which leave the readers choked under the burden of the tragedy. It documents a change that was occurring in the earlier part of the 1900's and is an introduction of the history of women's rights and the status of women in Indian culture. It will be of special interest for the lovers of Indian culture and history and possibly of the history of women's rights.
Shatranj ke Khiladi is a story about two aristocrats Mirza Sajjad Ali and Mir Roshan Ali living in the kingdom of Avadh during the times of British Raj. Both of them are careless towards their duties and spend their days playing chess which ultimately destroys them.