Gems from The Gita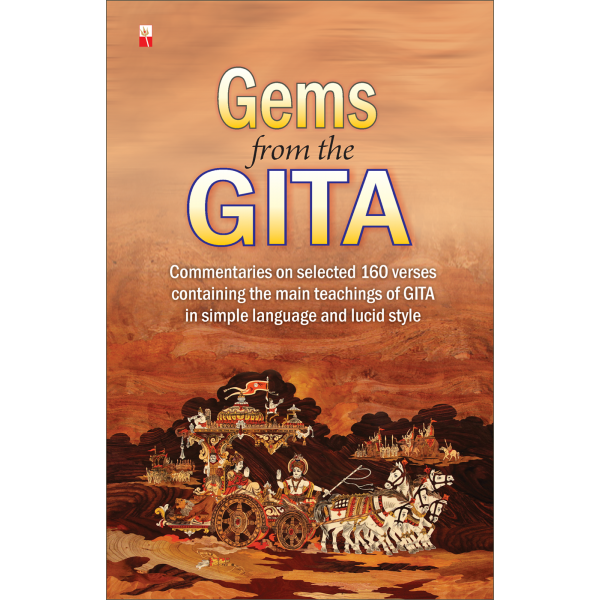 Gems from the Gita
This book is a concise and compact version of the famous treatise 'BHAGVAD GEETA' which holds a unique position among the ancient scriptures of the world. A special feature of the book 'GEMS FROM THE GITA' is that it includes only 150 verses out of 700 verses of the main GITA. Though short in volume, it covers all the main teachings enshrined in the original scripture. The GITA is not merely a sacred book meant for severance and citation on special occasions, but is a fountain spring of true knowledge and wisdom.
This small volume is an outcome of a deep study of the GITA over a long period. It contains gems of wisdom which acquaint the reader with the fundamentals of real knowledge related to Yoga, God, Nature, The soul, Good and evil and several other essential facets of human life.
In short, this small book can serve as a handy guide for righteous living and is specially designed for the busy people of the modern world, who have no time and inclination to read the voluminous texts.
The author, Mr . J.M. MEHTA is M.A in English and a topper in B.Ed from Punjab University. After a brief service in the Punjab Education Department. He was selected for the Indian foreign service. He held various responsible assignments both at the headquarters and abroad. His foreign postings included U.K, Russia, Kenya, Vietnam and the Philippines. After retiring from the ministry of external affairs in 1993, the author has been devoting much of his time in writing general books. His earlier works published by PUSTAK MAHAL includes 'The wisdom of the Gita', Essence of Maharishi Patanjali, Ashtanga yoga, Man and Mahatma, Live the life of your Choice. 100 Effective Ways for Self development, besides a few other titles.