Bhrigu Samhita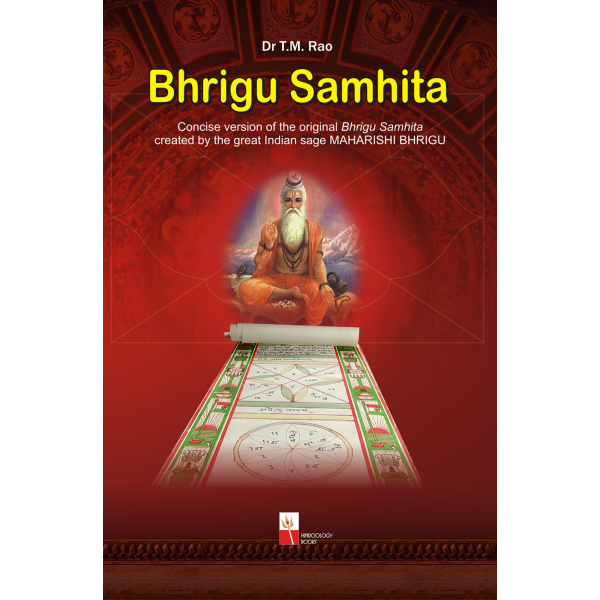 Bhrigu Samhita is an astrological classic written by Maharishi Bhrigu in the Vedic Period. This was the first treatise on predictive astrology which formed the basis for further research and analysis.
This book is a concise version of the original Bhrigu Samhita. It is specially written to cater to the needs and interests of both laymen and experts. It provides valuable hints on how to find out the character of a native, his moral inclination, and his fortunes and misfortunes in various walks of life. It also imparts useful information with regard to longevity and prosperity of the native, his parents, brothers and children. Self-explanatory content well-segregated into various chapters would enable not only a professional astrologer, but also an amateur to predict with accuracy the future of the native and form an opinion as to how a planet is disposed in a particular nativity.
About the Author

Dr T.M. Rao (Turaga Madhusudhana Rao) was born on July 3, 1927 at Guntur in Andhra Pradesh. He did his B.Sc. (Hons) and M.Sc. (Research) from the Andhra University at Waltair. He joined the Geological Survey of India as a Gazetted Officer in 1948 and retired as Director in 1985.
Though he had keen interest in Astrology, he could pursue this only after his retirement in 1985. He started his professional consultations in 1987 in the Twin Cities of Hyderabad and Secunderabad. He developed interest in Medical Astrology and started giving his opinions on health matters in 1997 to the different patients who were undergoing treatment in the various Corporate Hospitals. The Open International University for Complementary Medicines, Colombo conferred upon him D.Sc. in November 1997. He got several titles from different Astrological Associations and Bodies as well. He has authored two books Marriage Matching Astrologically and Astrology for Layman published by Pustak Mahal, New Delhi, which have received wide appreciation from all over India and abroad. He has also published a book Muhurta and Allied Topics on his own by getting financial assistance from Tirumala Tirupati Devasthanam, Tirupati.