Yes We Can Change India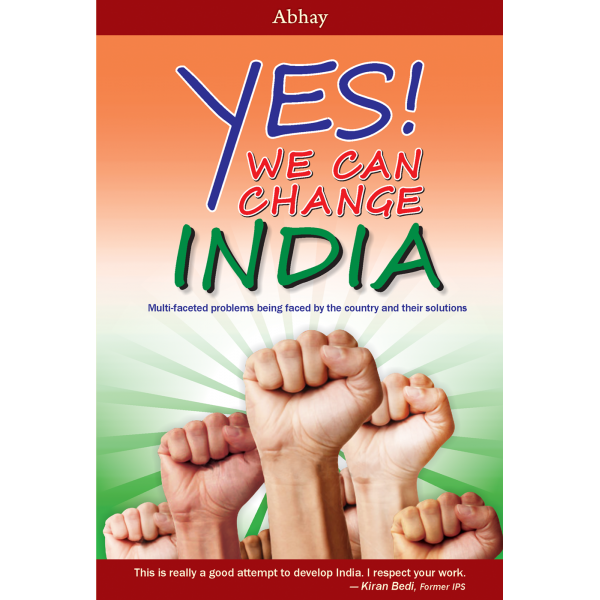 This book discusses an eradication of poverty, unemployment, hunger, population-explosion, illiteracy, corruption, rape, injustice, discrimination etc. It tells us how to improve the quality of our lives by making the right choice instead of succumbing to the challenges and obstacles. It discards all false myths and beliefs about human and social development and puts a real and down-to-earth picture from a common-man's point of view. Why we have failed to develop a prosperous and developed India? The basic cause behind this is — only a few people, even less than 5% have sincerely thought and worked for it. Everyone has not made effort and strived for it; and unless everyone thinks and makes effort for it, we can never develop India. No leader, political party, government, guru or god can develop it; only we, 125 crores Indians, can do it. And this responsibility comes especially on the shoulders of youths of India as they are more innovative, dynamic and energetic. Youths of India are boiling to change India — to change its system, administration and political scenario and hence this book will certainly help them to meet their goal.
The author of the book is Mr. Abhay Bahadur Singh. He did his graduation (B.Sc.) from Co-operative College Jamshedpur, Ranchi University, Jharkhand in 1996. He is a Sub-officer Trainee from National Fire Service College (NFSC), Nagpur, 1999 batch. He served as Fire-officer at Oswal Chemical Fertilizers Ltd, Paradeep, Orissa. However, later he left his private job and joined Indian Navy in Dec 2000. Thereafter, he has been serving Indian government at Material Organisation, Eastern Naval Command, Visakhapatnam, Andhra Pradesh. He actively participates in all social and welfare activities organized by Indian Navy and other Social-welfare bodies. He has already written three books: 'How to Develop One and All'; 'For Total Development of Humanity' and 'Khud Phaisala Karo Dost'. His sole aim of writing books is development of people and society.