1 Friend request sent from Hanuman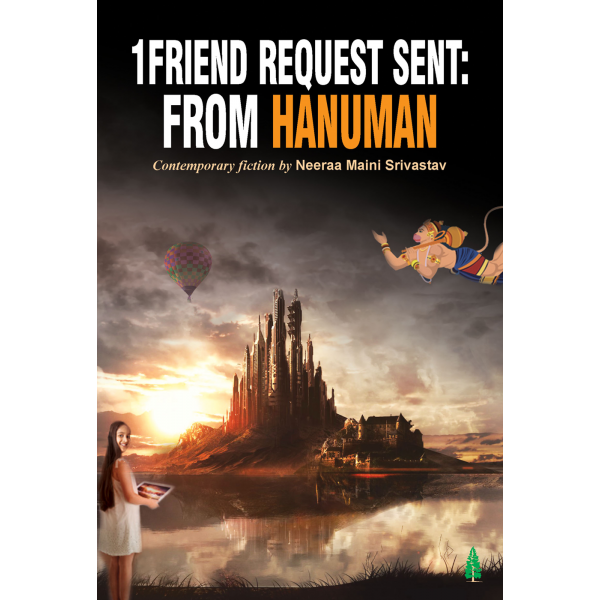 In a highly digitized world where social media has almost replaced human interactions on the physical plane, what if something magical happens that defies logic, convention and reason? This is where the story begins. The location: none other than a social media platform. The protagonist: none other than a social media addict- 10 year old Pia whose world transforms radically one day when confined to her room with a leg injury, she has a virtual encounter on her favourite social media site: Peerbook with an unknown friend, Hanu who cheers up a dismal Pia with jokes, chatter, shop talk and even guidance till Pia unveils her new friend's identity. Could it be possible that Hanu is none other than the ancient Indian epitome of might, valour and devotion: Hanuman? Can Pia actually chat with the ancient deity online and share her innermost fears and dreams with someone she has thus far only known in mythology comics and movies? Can she move from disbelief to faith? Can she discover a strength she has never known? Find out in this uniquely thrilling and enlightening first-time ever encounter between a victim of technology and the supreme power- and all that transpires in between.
"Neeraa takes us through a journey of technology and tradition, youth and adulthood, the future and the past and everything that is in-between!
About the Author

Neeraa Maini Srivastav is a fiction writer and an advertising professional of Indian origin. With a vast repertoire of creative projects worldwide in her metier, she drew her inspiration from being around literary greats. Armed with a Masters degree in Literature and a penchant for storytelling, her quest continued with her professional years as a senior creative, both in India and abroad in reputed agencies like Lintas (now Lowe), Saatchi & Saatchi, Mudra to name a few. The compelling need to cross-breed creativity made her contribute her sensibilities to India's reputed movie production and media houses such as Mukta Arts and The Times of India. From building brands to penning mindful features for publications, she straddles both worlds with equal élan and has even made a foray into screenwriting for both television and cinema. Neeraa's avid interest in new age spirituality and metaphysics makes her live the adage 'I create, therefore I am'. Her unparalleled panache and grace in her narrative shines through her previous tomes; rights to 'The White Crow' had been acquired by Podar School for syllabus while she often serves as a Guest speaker at leading public schools and symposia. She lives in Mumbai and you can find her exploring ever newer horizons, chit-chatting with her characters from her next page-turner... www.neeratheauthor.com