Unique News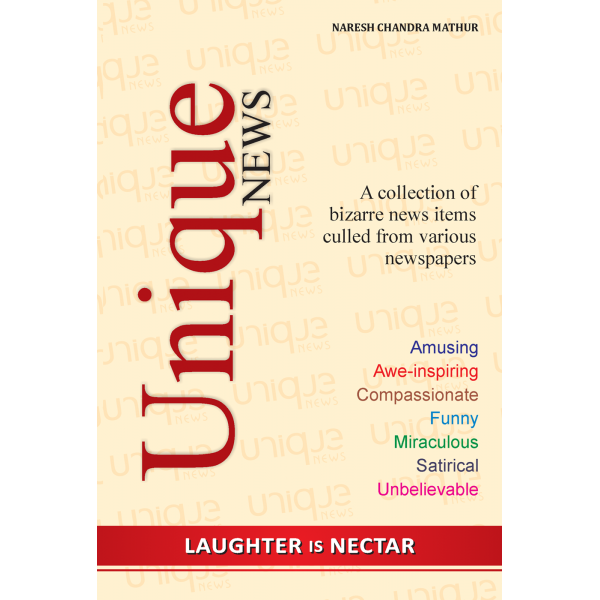 Every morning, we anxiously wait for the newspaper vendor. As time permits, sometime we would read the newspaper while sometime we would just glance through it. But invariably we forget the news as time passes by and how events mentioned by those news has shaped our lives and the environment we live in. Looking back at the news brings back so many amazing memories. Mr N.C. Mathur who has treasured daily editions of some newspaperes of recent past has decided to evoke these memories in the form of the book – UNIQUE News. Unique News as the name would suggest, is a collection of unusual news items culled from different newspapers.
This is Mathur's third book. His first book "Punchline" (Quotable Quotes) was published in October 2011 and its revised edition was printed in June 2012. Thereafter, his another book "EXCERPTS FROM EDITORIAL" - a collection of selected editorials of erstwhile Indian Nation, Patna and Hindustan Times, Patna was published in June 2013. Both these books were creditably recorded by Limca Book of Records: National Record, 2013 & 2014, respectively.
We live in a world of uniqueness and miracles. We all enjoy the natural and unnatural phenomena in our own way; Mr Mathur is endowed with an inner vision to perceive the happenings beyond the five senses. As if churning oil from sand, he has churned the newspapers to get stories which are at times unbelievable and at times amusing. This book is a compelling reading. So go ahead and enjoy the wonders and beauty. At the same times, an eye-opener for our society.
Naresh Chandra Mathur, B.Sc. (Botany), retired as Assistant General Manager from State Bank of India, Patna L.H.O. in January 2011. Mathur represented Patna Circle in Hockey & Basketball. The then Hon'ble Governor of Bihar, Shri Vinod Chandra Pande felicitated Mathur for significant contribution in the field of Community Services on the occasion of "Sahastrabdi Utsav-2000" on 6th April, 2000 at Patna. He has passed Proficiency Certificate in Management & Public Relations from London Chamber of Commerce & Industry, Sidcup, Kent (UK). Mathur takes considerable interest in social activities and is a devout reader of numerous non-fiction books. Creativeness, Innovation and logo designing are his passion. His Nano Library "Pustak Meri Madhushala" contains around 3500 books. He is popularly known as 'Namastey Mathur'.