Your Old Age And Retirement Golden Period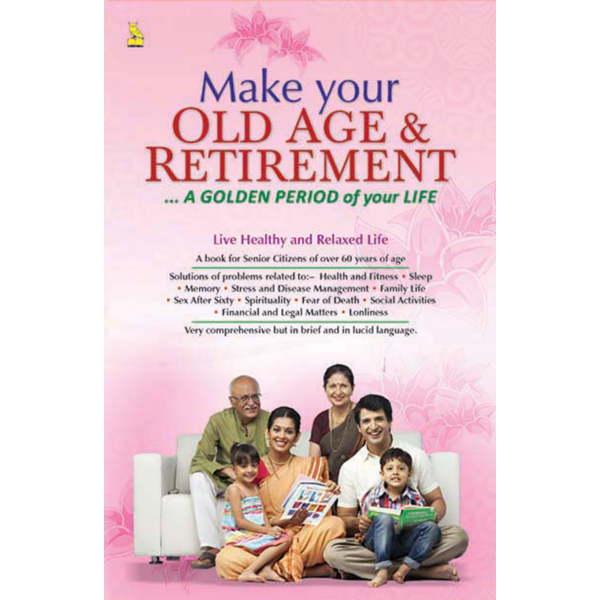 Senior citizens of over sixty years of age, constitute the fastest growing segment of the Indian population. The overall population of our country is growing at the rate of less than 2% but the number of seniors increases more than 3% every year.
Retirees are a part of this segment but they have their peculiar problems. Senior citizens, in general face problems of health, isolation, finances and adjustment in the family. But retirees face a sudden change and break in their routine life and withdrawal of many facilities that the job offers.
Very little has been written, at least in India, about this large group of citizens, The present small book deals in a comprehensive manner, but in brief and in lucid language with their problems. It identifies those problems, offers solutions and encourages the seniors not to lose heart and live a meaningful life full of enthusiasm.
The matter given in the book is so exhaustive that it may be called a mini encyclopaedia on the problems of the aged and the retirees.
ABOUT THE AUTHOR

Suresh Chandra is a post graduate with a gold medal in English in BA. After serving in various departments in the Central and State governments he retired in the year 1992, as Deputy Commissioner Sales Tax UP Government. Even while in service, Shri Chandra became interested in the problems of the aged and retired persons. After retirement he became actively associated with some NGOs which were working for the welfare of the aged and organizing them for social work. He himself had founded an NGO for the senior citizens which is still thriving and doing excellent work. He wrote extensively on the topic and toured many big towns delivering lectures. At the ripe age of eighty one he is still active in this field, writing and working for the elderly.
Dr. Anne Karen Trollope Kumar is a medical doctor who did her training in Canada. She spent a total of 11 year working in India in the NGO sector with her husband Dr. Pradeep Kumar. They presently live in Hamilton, Ontario, Canada, where Dr. Trollope is an Associate Clinical Professor of Family Medicine at McMaster University. She also holds a PhD in medical anthropology and has a deep understanding of the cultural differences between India and Canada, especially with regard to the cross-cultural aspects of aging. In her Canadian medical practice, she has worked extensively with the elderly. She is often invited to speak at McMaster University and to senior's groups on the subject of aging and wellness. Because of the years she worked in India, Dr. Trollope is uniquely qualified to write about seniors in these two countries, and the particular health challenges that they face.